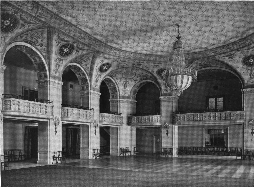 Manhattan: Penn Station/
The Hotel Pennsylvania at 7th Ave. and 33rd St.
The main ballroom of the Hotel Pennsylvania hosted the great Big Bands of the 1930s and '40s, including those of Count Basie and Duke Ellington. The Glenn Miller Orchestra made the Hotel's main phone number, PE(nnsylvania)6-5000, famous with its 1940 hit of the same name. The phone number is still in use.
Posted August 23, 2013 by gstavrou