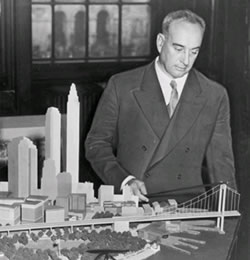 Manhattan: Battery Park/
Castle Clinton National Monument in Battery Park
Robert Moses almost single-handedly scuppered the plan to build the Brooklyn-Battery Tunnel in order to promote his own plan for a Brooklyn-Battery Bridge. The suspension bridge would have cast a shadow across Battery Park and would have called for the demolition of Castle Clinton (1812), which housed the New York Aquarium at the time. A last-minute letter from the War Department, explaining that a bridge downriver from the Brooklyn Navy Yard would pose a national security risk, put an end to Moses' plan. Some say that the directive came from President Roosevelt himself, who wanted to settle a rivalry with Moses that started in the early 1920s, when they were both in New York State government.
Posted April 11, 2013 by gstavrou