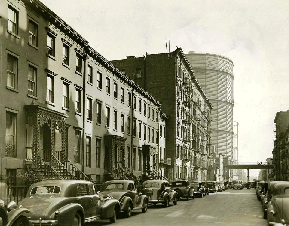 Manhattan: Gramercy Park/
18th to 23rd Sts. from Third Ave to the East River
From 1842 until well into the 1940s, this area was dominated by gas storage tanks. Crime was rampant here through the 1930s. It is said that police captain Alexander S. "Clubber" Williams got his nickname here, authorizing his men to beat up gangsters from the Gashouse Gang with clubs.
Posted June 3, 2013 by gstavrou
Related
Crime

Gashouse Gang
Formerly Known As

Neighborhood
Law and Order

Alexander S. "Clubber" Williams

---