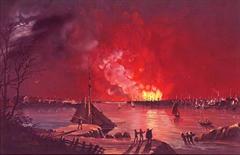 Manhattan: Financial District/
Near Beaver and Pearl Sts. (then called 25 Merchant Street source: oldstreets.com)
A fire broke out in a warehouse here and spread to 674 buildings across 13 acres. Fire departments from as far away as Philadelphia were enlisted to help. Control was gained only after Navy explosives were detonated, creating a firebreak.
Posted March 20, 2014 by gstavrou
Related
Disaster, Insurrection, Unrest

Fire
Law and Order

Fire Department

---