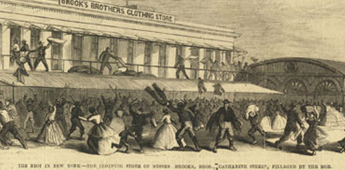 Manhattan: Lower East Side/
Northeast corner of (now) Catherine Slip and Cherry St.
Henry Brooks opened his clothing store here in 1818. His three sons inherited the business in 1833 and renamed it Brooks Brothers in 1850. The store was ransacked by an angry mob in the 1863 Draft Riots. It was likely targeted for its reputation as clothier to the upper class and for its role as outfitter for the Union army.
Posted March 14, 2014 by gstavrou
Related
Disaster, Insurrection, Unrest

Riot

The NYC Draft Riots of 1863
Eras

American Civil War
Retail

Brooks Brothers

Department Stores

---